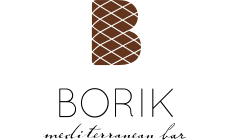 Borik Mediterranean
Feel the perfect Mediterranean vibe!
Relax on the bar's modern and spacious terrace by the attractive pine-fringed Borik beach, overlooking the open sea. Unforgettable sunsets guaranteed!
Ideal for a light lunch or a romantic dinner, this place offers lavish salads, delicious burgers, various fish and meat specialities as well as creative desserts such as Lava(nder) cake. Along with a select wine list, we also pride ourselves on unique craft cocktails based on homemade syrups from local plants grown in our very own garden.
Feel the excitement and create new experiences with us!