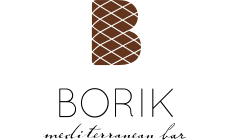 Borik Mediterranean Bar
The modern and spacious terrace of Borik Mediterranean Bar is located along the beautiful Borik beach with a view of the open sea and unforgettable golden sunsets.
During the hot summer days, Borik is an ideal spot for a light lunch of healthy Mediterranean cuisine. Borik's offer includes native fish and meat specialities, best accompanied by a glass of refreshing or top-quality red wines, and carefully crafted desserts such as figs in prošek with a cream of skuta cheese.
At night, Borik becomes a necessary place for meetings and parties with an adequate offer of cocktails created with gin, rum, vodka and whiskey, along with a diverse selection of champagne and sparkling wines.
Be our guest not just for the food and drink, but for pleasure and new experiences we can share together.
You can dine at Borik Mediterranean Bar as a part of our  Dine Around programme.