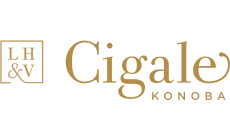 Konoba Cigale
In the shade of pine forests overlooking the sea and the most beautiful Čikat cove is Konoba Cigale.
Our tavern continues the Lošinj gastronomic tradition and offers classic island fish dishes as well as seafood specialities.
This fish restaurant's menu offers the freshest Adriatic fish, crustaceans, and shellfish, and dishes such as scampi tartare, carpaccio of monkfish, lobster buzara with homemade pasta, a Cigale brodet, stuffed Adriatic squid, and the most excellent Adriatic fish from the grill.
Along with our seafood delicacies, top quality Croatian wines are included in our offer along with imaginative desserts such as warm strudel with vanilla ice cream or almond semifreddo with caramel.
Visit Konoba Cigale and experience the traditional way of Lošinj life!