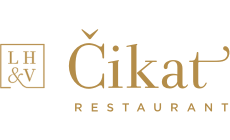 Restaurant Čikat
The Čikat restaurant is located in the heart of the camp with the same name, tucked inside a centuries-old pine forest. On a spacious summer terrace, in a homely atmosphere with a friendly staff, you will feel as comfortable as ever at Čikat.
The restaurant offers a generous selection of varied dishes, and the scents of lamb and suckling pig on a spit will entice you every day. The healthy island restaurant kitchen is abundant in fish and seafood, all worthy of a good glass of wine. The kids will be overjoyed by imaginative dishes, and for those busiest, a variety of pizza can be delivered with our service.
Visit us because everything we offer is made with love!